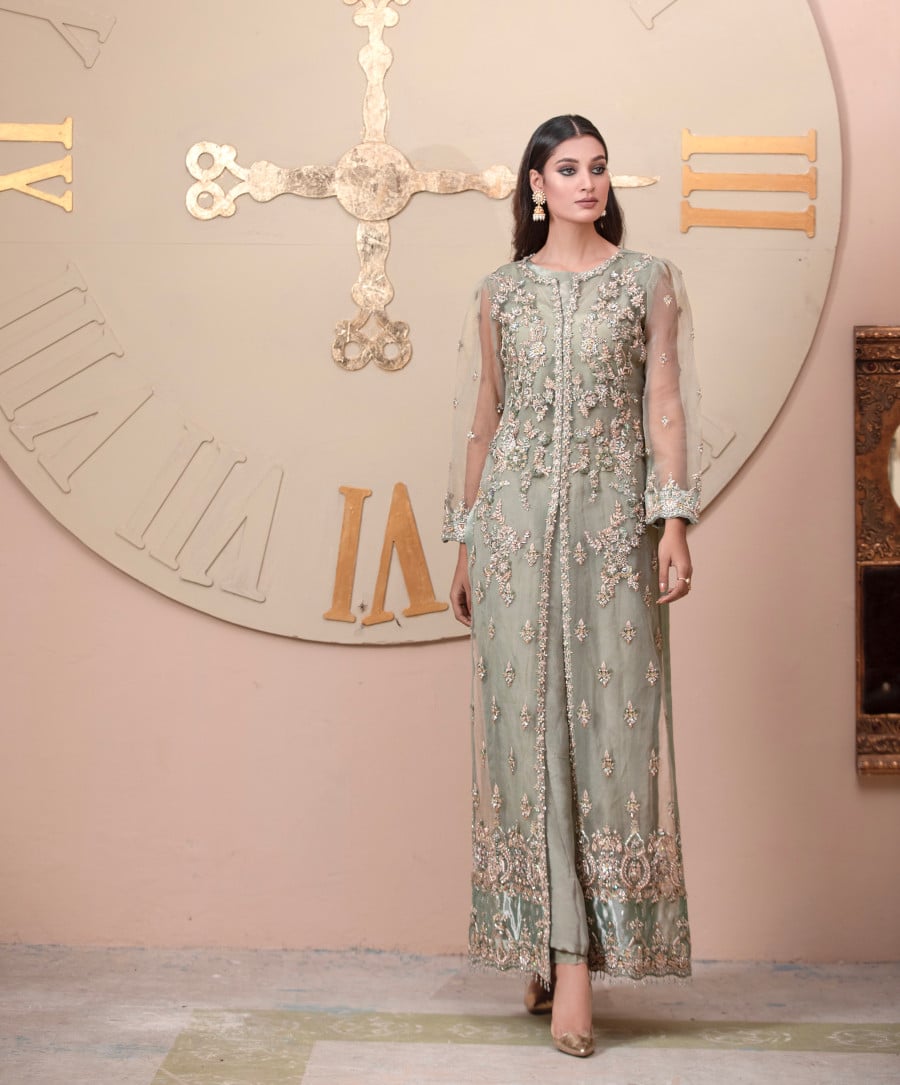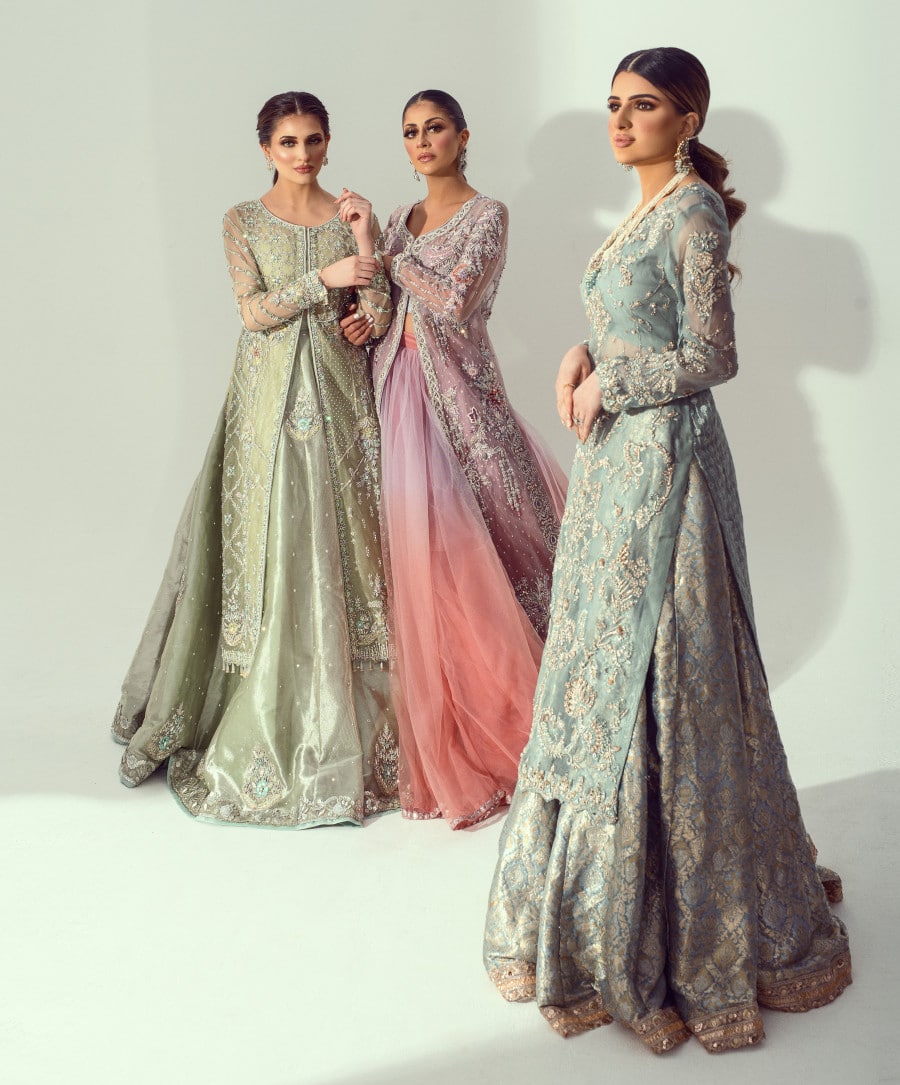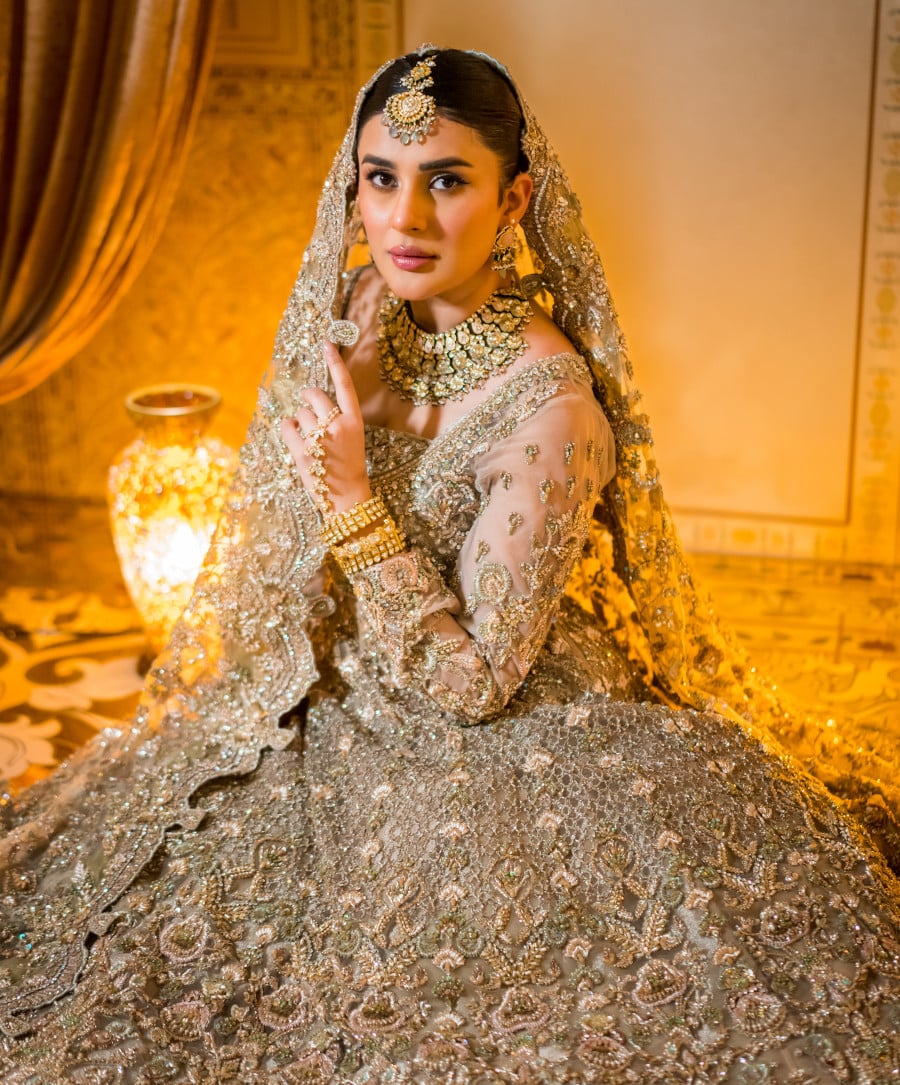 Amazing customer service. I ordered an outfit for my brothers wedding and so happy with the end result! Thank you to Aisha and her team. Will definitely be returning in the future. xxx
Absolutely amazing customer service from start to finish. Always greeted with a smile and Salams. I felt sooo comfortable in the whole process of ordering my wedding dress and my family's dresses. If you are a bride to be then this is the place to come down to. May Allah continue to bless you all with so much barkah in your business Ameen ❤️
I booked an appointment with Aisha Naheed in February 2023 after seeing their work on instagram. I instantly fell in love with the bridal lenghas online and it was even more stunning in person. Aisha and her team provided excellent service from start to finish. They were so welcoming and made me feel at ease during the entire process. They were very professional and set realistic and honest timescales. My lengha took 5 months to make but it was absolutely perfect on the day of fitting with no alterations needed. I travelled 3 hours back and forth but it was worth it. I highly recommend Aisha Naheed to future brides. Herah x
Aisha Naheed and staff have been the most amazing people to ever get a bridal service off! They took care of my every need. Made sure my experience was smooth and seamless and managed to get exactly what I wanted for a bridal. The final result exceeded my expectations. They were also so kind and listened to all of my problems that every bride goes through and it was so reassuring to have such kind people to take care of such an important part of the wedding. If you go with Aisha Naheed you won't ever have to stress about your bridal…they take the best care of you. Thank you to Aisha and the team xxx
I ordered my Nikkah outfit from Aisha and could not have asked for any better service!Aisha herself provided the best customer service I have ever experienced within the UK and her designs are so beautiful!The whole process from ordering my dress up to the final fitting was completely stress free and I cannot recommend Aisha enough as a designer and as an individual who is so helpful and goes the extra mile to ensure everything is perfect.
We ordered my nieces wedding outfits from aysha and her team . We went in for a browse of bridal outfits and ended up placing orders for the whole family. From start to finish the team Ayhsa N were professional friendly helpful and made us feel at ease. It is apparent through their interactions and rapport building that these women are knowledgeable in their field .They would give honest opinions and suggestions on outfits and it didn't feel like they are hard selling us outfits. The feeling of warmth and safe comes to mind when thinking of these women,. They went through what outfits would suite the skin tone the body shape and created the perfect masterpiece. I was knocked back with the absolute professionalism and their passion for the work they do.( I've been many places and I have not once come across the service they provide ) We went in as some total strangers back in October 2022 last years and we left them this July 2023 feeling like we are part of the family. Aysha I can't thank you and you team enough for the hard work and efforts you put in and thank you ever so much for making this stressful times so easy for us. Our bride has not once's stressed and kept saying " don't worry aysha and her team has this" lol ….. Outfits were beautiful…stunning …. exceeded out expectations. I would highly highly recommend Aysha N and her team. And this one is for Auntie …… your just just FAB!🥰.
Just want to say, they have the most welcoming and caring people working at the store! Best service in the fashion industry and I can't fault them in any way. So Polite and lovely! And amazing designs of unique clothes! 🤍
Ordered from Aisha Naheed in the past and after the amazing service, I came back for my wedding and walima outfits! The most stunning outfits made to perfection and the best service. Both Aisha and Saima Auntie were such a pleasure to work with we cannot recommend them enough!!! They made the whole experience so easy, stress free and enjoyable. I honestly cannot fault a thing about our experience, it has been the best we've ever had! Team AN really go the extra mile to make everything perfect. Thank you so so much to Aisha Naheed and her amazing team! May Allah continue to grant you lots of success and barakah in your business. Ameen. We will definitely be back soon i'A <3
Absolutely loved my experience at Aisha Naheed, all the ladies here are extremely polite, friendly & helpful.. very warm & welcomingMy outfit was 10/10, every detail was spot on, measurements were perfect, not an inch out of place and they delivered the order just ahead of timeShopping here was more of an experience than just a sale, they really go the extra mile, Aisha and her team are perfectionists.I would recommend Aisha Naheed over and over again!
Nabeela S.
18:11 09 May 23
Just came back for the FIRST time from AN for my sister in laws walima dress and instantly picked THE outfit after countless of unsuccessful attempts at other bridal shops. The bridal shops in Blackburn, Bradford, Manchester and Birmingham were outdated and lacklustre, to the point where we didn't think we'd be able to find one. I've been following AN for a couple of years ever since the influencer 'hajra_aaa' on Instagram had a nikkah campaign with this brand and thought to give it a go as a last resort. I wish we had tried this place sooner!!! Each design of the dresses were authentic to the Pakistani style, they have a beautiful selection of jewellery to go with the outfits (which reduces a lot of stress) and most importantly, the customer service was impeccable. The shop itself is only a minutes walk from the Rochdale train station, so a very convenient location for people who struggle to drive/find a lift. Auntie, who had given the consultation, explained everything in detail and was very attentive and patient to our countless questions. She made our sister in law feel very comfortable and listened to our needs. Aisha herself was very helpful in selecting the perfect jewellery to go with the outfit and let us try the dress once more to ensure this. Overall a very professional environment, beautiful dresses and polite staff. Would 100% recommend this shop to any bride looking for her dress. May Allah grant you all barakah in your work, ameen.
A very gifted and talented designer, Has an amazing range of bridalwear.Great customer service from all the staff when buying my Niece's wedding Lengha, Thank you all so much for your advice and services.Highly recommended
Very Good service.Bought bridal outfit for my niece. Very good service from a very good team.
Shaista K.
12:34 28 Mar 23
When I saw Aisha naheed first on Instagram I just knew it had to be her who I go to!!! The service from start to finish was AMAZING! I cannot recommend these guys enough, Aisha Naheed, Aunty Saima and Haleema you guys were wicked!!! Your work in your clothes, your timings, the service and everything else just speaks for itself. From buying party wear and regular formals it's definitely a place I would 100000% come back to In Sha Allah without a doubt. If you guys see me in 2 weeks for a bridal appointment just know it's my turn 🤣😉 hahaha. Thank you so so so much again I cannot recommend you guys enough!!!!! 11/10
Humeyra R.
04:55 12 Jan 23
HiiThank you so much for the outfits. Loved them! Received so many compliments from everyone whilst wearing them on my brother's walimah. Thank you for the amazing customer service to Aisha and the team, everything was on point, from beginning till the end. You sorted us out in short notice and the outfits came out perfect, just as I expected. I was really happy that the shop was nice and warm when we came to the shop for the outfit fitting, whilst it was freezing outside due to the weather. I love how we had a right laugh and how well you look after your customers. Will definitely be placing orders with you again in the future!Sadia x
I got married this year and brought three outfits from AN.Just wanted to thank AN and staff for the amazing service they provided from my consultation to receiving my outfit. I had my Mehndi, Nikah and Wedding outfits made from AN which were designed perfectly. I want to thank AN for designing and making my outfits look the best for me. I would highly recommend AN for Asian bridal wear and the professionalism she shows throughout her service. Absolutely loved my outfits and pictures have come out so nicely too.A massive thank you to AN, will be back soon <3
I had the best experience at Aisha Naheed, I chose my bridal outfit, whilst my sisters and mum chose their outfits too. The entire team at AN were so lovely and welcoming, I was initially really indecisive about which look to go for but they gave me their honest opinion as to which look would suit me best. Throughout the entire process, the team have been nothing but informative, supportive and professional! I came all the way from Birmingham each visit and I will continue to do so! I would happily recommend Aisha Naheed to any future brides, they'll help make your big day perfect! 🙂
Saima and Aisha's customer service was great right from the start, they've been super helpful. The dress came on time and alterations were fairly fast. The dress came out beautifully alhamdulillah, I would recommend
I purchase my bridal dress from Aisha naheed and I absolutely love it. They made my experience unforgettable. I honestly cannot thank them enough. The service I received from the whole team was amazing. I would highly recommend all brides to purchase their dream dress from Aisha Naheed.
Jaweria K.
12:28 27 Sep 22
Had the most amazing experience working with aisha and her team to create my bridal outfit. They were extremely helpful and talked me through the whole process. Everything was done to a great standard
Cannot recommend aishah naheed and her her amazing team enough. I purchased 2 of my bridal outfits, for my baraat and walima as well as matching jewellery pieces and couldn't have been happier with the quality, design and service provided. They really went above and beyond to make sure I was happy and comfortable with my choices. I have never experienced better customer service from any formal/bridal asian wear store before. My outfits arrived on time and were fitted perfectly before my event. I was even shown how to walk, sit and drape my dupatta which made everything soo much easier on the day. I am also so so thankful for how kind and understanding they were throughout the whole process and hope their success continues in the future iA.
I would like to give a huge thanks to Aisha & her team. She gave me the most beautiful dress I could have asked for.. it came out perfect. Exceeded all my expectations made me feel like princess alhamdulliah. Thank you so much for all your hard work and giving me the best bespoke design I could have asked for! Wishing you lots of barakah, health, wealth and happiness😊
sairish H.
11:52 21 Aug 22
I cannot recommend Aisha and her team enough. Professional and super quick service. I had so many compliments on the dress created bespoke for me, thank you Aisha and team so much for always coming through for me. Can always trust you to create elegant beautiful pieces. Thanks again guys ! Wishing lots of barakah health wealth and happiness ! X Sam
Sameena A.
09:58 23 Jul 22
I can't believe that I haven't posted a review yet considering how much we love Aisha Naheed. Exceptional service as always and the quality is amazing. We can leave everything to Aisha and her team and they always exceed our expectations. We are so glad that we walked into your shop years ago as we wouldn't go anywhere else. May Allah SWT always put barkat in your business! Highly recommend to anyone! We've grown into family more than friends now. Thank you for everything!
Had the most amazing experience picking and creating my bridal dress with the most supportive and caring staff!! Couldn't recommend enough! The communication is great and they do all they can to create your dream dress. Honestly exceeded all my expectations, would recommend all my friends and family to go there for luxury party and bridal wear!Honestly ladies if your thinking of getting your bridal dress from here, do it!!🥰
Saima is amazing from the moment I came in to look at the dresses she helped me so much and gave really good advice and her honest opinion. She's an amazing stylist. All the staff are extremely friendly. My dress is absolutely beautiful more than I imagined. The changes I Made with Saima help couldn't have gone better. Thank you so much to you all for my experience I am truly grateful 💖
My family and I had such a great experience with Aisha and the team. We made several visits to the shop and on each occasion everyone was so lovely, welcoming and helpful. The outfits they have are all gorgeous and very well made! I ordered my walima outfit from them which came exactly on time. The quality of the stitching was excellent too and i can't wait to wear it. I needed my sleeves altered slightly l and that was done for me within the hour! Special shout out to aunty saima for taking special care of us and being so friendly and like an additional mum figure to my sister 😉 Her approach with my sisters mum and mother in law was so lovely- felt like we were shopping with an old friend! InshaAllah we will definitely be back for the next wedding! Love zariya, uzma, laila, mum xxx
Had the most amazing experience with the AN team, they're extremely welcoming, honest, excellent customer service. I was given advice in every way to make my big day a success. They have an amazing range of outfits and make sure that as a customer your biggest stress is lifted off your shoulders. I was overwhelmed when I had my bridal fitting today. Thank you to the team!
Absolutely amazing service from Aisha Naheed. Very professional and lovely service given. Couldn't ask for anything more! My wedding was last august, I had my nikkah and baraat outfit from Aisha and I loved them! Everyone complemented me on the days! Can't thank Aisha and her team enough! Still waiting on my professional pictures but thankyou again! Especially to Saima also for helping me along the way!❤️ May Allah SWT continue to bless you and your business, Ameen.
Nazeena S.
14:00 12 Apr 22
Thank you for the amazing service provided by Aisha and Saima.We went through the whole process during a lockdown. Initially it was so daunting but you made it so easy. Over the video calls you explained everything thoroughly and assisted in choosing the right materials and designs. Both, bridal outfits and the jewellery turned out better than anything I could have imagined. You both went above and beyond and I cannot thank you enough!!!Thank you once again for the amazing service I will definitely be back again!!!
Where do I begin. Aisha, Saima and the whole team have been absolutely amazing from the very start to the end. My dress journey started from endless consultations going to Bradford, Birmingham, London and having video consultations with designers based on Pakistan. It was never ending and tiring if I'm being honest.I had a vision in mind and no one was really meeting my expectations. I also valued good customer service and the feeling of leaving with full confidence in putting my trust into them delivering my dream dress as I have envisioned and I wasn't getting this feeling.However this all changed when I had my Aisha naheed consultation it was my very last consultation I had booked.Aisha naheed exceeded all my expectations after my face to face consultations ( I had about three). Aisha made a beautiful sketch of how my dress will look like and I just knew we were on the same page. They have a beautiful selection of Pakistani bridal designs which I chose and took ideas from to make my bespoke dress.Aisha and Saima exactly knew what look I was going for. They were ever so lovely and warm to me and my family through out this whole process. I received emails from Aishas Pakistani production team keeping me up to date and checking with me if I was okay with certain materials used. Which I thought was so professional and fantastic. Alhamdullilah both my dresses arrived on time as discussed from the beginning with the estimated delivery date. Such a reliable team.I felt like a princess when I tried my dresses on. I was in tears with just how beautiful both my baraat and Walima outfit turned out as it was better then what I initially envisioned. Saima was brilliant with giving me tips around the dupatta setting and how it should look on the day to give me the regal traditional Pakistani look.Every bride to be deserves to have a magical dreamy process of choosing her dresses. Even though it's painted to be stressful. It's really not when you have the best team with you. Till today I receive so many compliments of my dresses. These are moments you will cherish for the rest of your life.Thank you so much Aisha and Saima.Love from Khazara and AliXxxxxxxxxxxxxx
Khazara T.
09:12 13 Dec 21
I just want to say thankyou to Aisha, Saima and the staff. You went above and beyond to give us our bridesmaid outfit for our sisters wedding. You were professional and showed great support to our needs when we needed it the most. My sister Zaharah and I loved our outfit. My sister Raesa, (the bride) also loved her Nikkah outfit. You exceeded our expectations and we are very grateful for that.
Highly recommend!!! *****I ordered my Nikaah outfit from here.Effortless order process, delivery , fitting etcI couldn't be happier with the service - this was the most stress free part of organising a wedding!Aisha and Saima were fantastic at helping me choose my outfit / making changes.My outfit was absolutely stunning, oozed elegance and it was exactly what I envisaged.Thank you so much ladies… you'll definitely be seeing me again! X
Beautiful bridal collection. My sister got her walimah outfit from here. She got lucky and found one on sale to buy off the shelf. Otherwise it's made to order.
The best team I have ever worked with. Both Aisha and Saima were absolutely amazing.They were so friendly and lovely to speak to. As soon as I would walk in the shop they would welcome us all so lovingly. I ended up getting two dresses within half an hour of looking around. Auntie Saima was so helpful and so fun to be around. I was blown away when my order came.The dresses were absolutely gorgeous. They both made my bridal experience better than I could have ever imagined. I would 1000% recommend them and definitely know I will be back soon. Aisha's work is honestly the best I have seen. Thank you so much for everything and I hope to see you both soon.
My first time ordering from here and the service has been nothing but amazing!!!A special thankyou to Aisha and Aunty Saima for their incredible customer service from placing an order to our final fitting. Absolutely stunning pieces in store and the atmosphere is always so welcoming. Ordering my clothes was such a hassle free process and i'm looking forward to ordering again in the future! Definitely the best in the country X
Haleema R.
00:37 01 Sep 21
Myself and my cousins placed an order for 5 outfits (all different styles and colours). Auntie Saima was great with us! She recommended what would suit us individually and was very helpful throughout the order process.The outfits arrived earlier than expected with only a few minor alterations. We were very pleased with the service and our outfits. Aisha and the team are professional, reliable and so friendly. I would definitely recommend their made to measure service.I will most certainly be visiting again in the future. You have a new regular customer! 😊
I cannot fault the service received with Aisha and Aunty Saima. I was so sceptical and anxious about leaving it in someone else's hands - especially with a full colour change I had no idea how my how my bridal would turn out. But Aisha did not disappoint I was in awe when I saw my outfit! I am so in love with my bridal! She was right to not show me glimpses and pictures of my outfit and to keep it a surprise.Not to mention she did an amazing job with my jewellery which compliments my bridal so well! She also did an amazing job with my mums, sisters, nieces and aunts outfit too! I cannot wait to see my visions come to life on my wedding day soon Inshallah.I had the best experience with Aisha and will deffo be back in the future Inshallah. I pray for your every success in the future Inshallah!xxx
Thameena S.
11:20 13 Aug 21
I visited Aisha Naheed to purchase outfits for a close family wedding. I was not disappointed! Having previously only bought outfits in Pakistan, I can honestly say that Aisha Naheed's unique designs, materials and embroidery is the best I have come across in the UK. The outfit turned out exactly as ordered and delivered on time. We also purchased bridal outfits from Aisha Naheed which were beautiful! We were updated throughout the process and had no stress or worries thanks to their outstanding service. I would highly recommend Aisha Naheed for formals and bridal clothing. A special thanks to Aisha and Saima for their impeccable efforts and service.
Where do I begin with review of Aisha Naheed. From the moment I managed to book my bridal appointment to the day I picked it up and onwards, the customer service has been amazing.Aisha and Baji Saima are amazing. They truly make you feel special as soon as you walk in to the shop. They made my day so special. Got to try on 3 different dresses and they helped with ideas and suggestions. As soon as I tried the last dress on, I knew it was the one (I cried like a baby with tears of happiness.) Thr dress I chose was and is absolutely beautiful. Aisha has a talent with designing the dress. They were quick to ask the tailor to come for my measurements and Aisha advised around height of shoes and adding length to the measurements.After the dress was paid for, the service didn't stop there. Aisha and Saima were always on hand via WhatsApp for any queries such as suggestions of what colour or style my groom could get for his sherwani. They have even helped with recommendations for photographers and make up artists.Nothing is ever too much trouble, I didn't feel I was bombarding them with questions and queries. I picked up my wedding dress as promised and in time scales too. There was slight adjustments needed, which was taken to the tailor and completed there and then (which saved us travelling back again.) They helped with ensuring I knew as well as my mum, how the veil and dupatta needed setting.I can't thank you enough for the amazing customer service and treating me like a princess.My mum also was included and cannot fault anything. She says hello and thank you so much for making my dream come true with the dress. Here's to the big day in just over 2 weeks insha'allah.Thank you very much 😊
Having travelled to Newcastle, Bradford, Birmingham, London and Manchester in search for a bridal outfit, Aisha Naheed was by far the best experience. From the moment we stepped in to store, Aisha and Aunty Saima were so welcoming and being very indecisive you were both the most patient and helped me pick the perfect outfit. The service was second to none and the best we had experienced. Since the wedding we have bought all of our outfits from Aisha, as no matter what your budget is whether it be for bridal or party wear, Aisha and her team will design the most beautiful outfit!
I visited Aisha Naheed after having already been to a couple of bridal stores. The moment I stepped into the store, Aisha was so welcoming and accommodating. I was in awe of the range and amount of choice there was available. All the bridals were beautiful, the embroidery and designs were something else. I knew this would be the place I would get my bridal dress from.I was always informed of the progress of my bridal order from the moment I placed the order till it was time to collect it and have my fitting done. This was reassuring as my wedding had to be delayed a coupleof times due to the pandemic.Aisha and Saima were very helpful throughout. Thank you for your efforts!! I was ecstatic with the end product and my outfit was loved by all!!I would recommend this store to anyone who is after authentic asian bridal/occasion wear.
By chance we came across this clothes house and we had the pleasure of dealing with Aisha who was an absolute delight. Excellent from start to finish, nothing was too much trouble and she was incredibly patient and helpful about the various options available to us. Both Aisha and Saima were brilliant every step of the way and I loved the designs they had available - so much so, I ended up ordering two of the same outfits but in different colours!!Despite working with very strict time-scales, Aisha was understanding and employed her best endeavours to ensure that we got the dress before the big day. Cannot recommend Aisha Naheed enough and in particular, Aisha herself and Saima who pride themselves on excellent Asian couture and great customer service
Your content goes here. Edit or remove this text inline or in the module Content settings. You can also style every aspect of this content in the module Design settings and even apply custom CSS to this text in the module Advanced settings.